Arts and Craft Market 29th August FAQ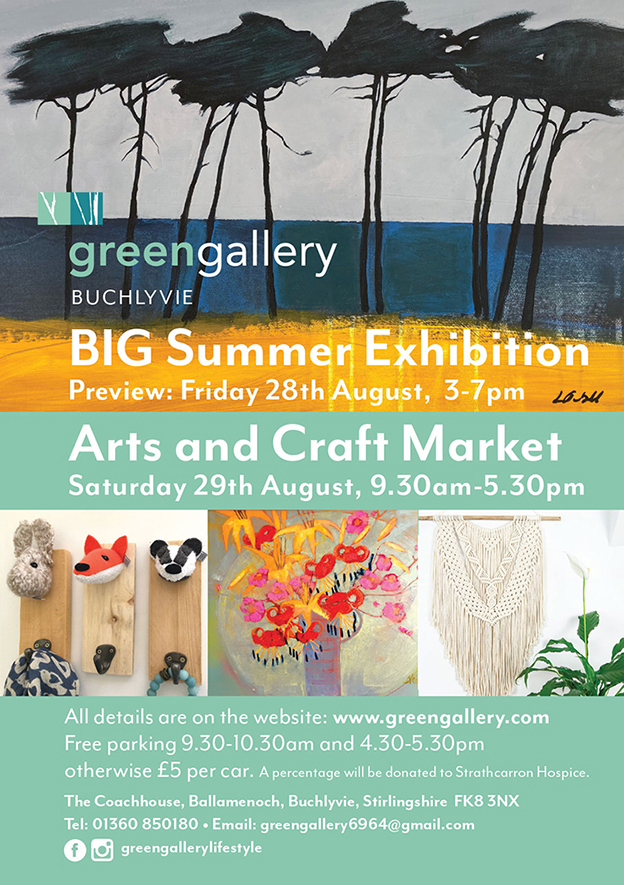 We are looking forward to welcoming you to one of our events after a 5 month break! Although we've been here online nothing beats seeing our customers for "real". We have so many wonderful artists and makers to show you – some old favourites but a load of new and exciting people making fabulous goodies.
Some of you will be very excited for a day out but we understand that others may be feeling a bit apprehensive.
Hopefully these questions and answers will put your mind at rest….
Where can we park?
lots of parking in the gallery grounds, to avoid everyone coming in the middle of the day the parking will be free from 9.30-10.30 and also 4.30-5.30
How much does it cost outwith those times?
£5 per car and a percentage will be donated to Strathcarron Hospice.
What if we don't want to pay?
come at the times above or park in the village and walk up the drive.
How will you know how many people are in the grounds?
parking attendant will monitor numbers, each car parked will need to leave a name and mobile number of the lead person.
How long can we stay?
we suggest one and half hours which will be enough to visit all the stalls and gallery plus get some food and drinks.
Can we pay by cash or card?
some of the makers will have a mobile card reader, some may not. We suggest that you bring cash as well as a card if you can. If you cannot bring cash and your maker doesn't take cards we can put it through the gallery for you.
If you are arriving at a time to pay for parking please pay in cash if possible to speed things up.
How will you avoid congestion?
we will send visitors to start in different areas – front garden village, sculpture garden, food area or gallery.
What about face masks and sanitiser?
face masks must be worn in the conservatory and gallery.
sanitiser will be available and extra masks if you forget!
Can I use a toilet?
we will have a porta loo which will be monitored.
What is there to eat and drink?
Nick Nairn's cook school will be providing salad boxes and a hot food option (more to follow) plus Fallen Tree Coffee will have drinks and cakes. Available from 9.30am
What if it's too busy?
we will monitor and may take the decision to ask visitors to wait a short while if we feel it's too busy. Your safety is a priority and we're all used to waiting these days!
What if it's raining?
well that is the million dollar question! It may well be but we're hoping for a bit of sun. The stalls are under cover and we would very much encourage you to just to bring layers, a waterproof and a brolly just in case. (don't forget the footwear!)
Please don't let the weather put you off….this will be the first market for our makers in many months and we'd love you to come and support them.
If you have any more questions please don't hesitate to get in touch.
Look forward to seeing you on the 29th. (remember the gallery is open on the 28th 3-7pm if you just want to see the art)