Current Show
Summer Show Dollar
We are celebrating our first birthday in Dollar during the month of June when we are delighted to be showcasing former Dollar pupil and well-known Scottish artist Nichol Wheatley.
NICHOL WHEATLEY
Nichol is a bit of a conundrum. Having run a commercial fine art studio in Glasgow for fourteen years working with Alasdair Gray, Timorous Beasties and a host of other famous names, he only had his first solo show last November. Suffice to say it was a complete sellout. Having recently returned to Kinross-shire, he is fascinated by the landscapes of his childhood, in particular his obsession with clouds. Nichol's work will be on show from 2nd June until 2nd July and all works will be on our website.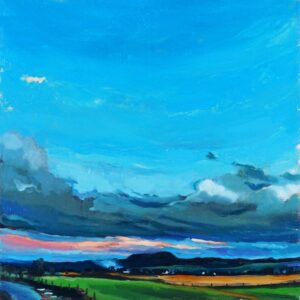 POPPY CYSTER
Alongside Nichol we will also feature Poppy Cyster's wonderful sparse Fife landscapes and other gallery artists. We will also have our usual selection of glass, ceramics and jewellery as well as special Dollar Academy-inspired gifts for leavers or teachers.