Current Show
Greer Ralston in Dollar and September at Buchlyvie
We are delighted to have fabulous new work by Greer Ralston. In this show for the first time she has combined her two passions for equestrian and large scale flowers in the piece "Hints of Dior" below….
The show will preview in Dollar on Friday 25th August from 4-7pm with the artist in attendance for part of the event.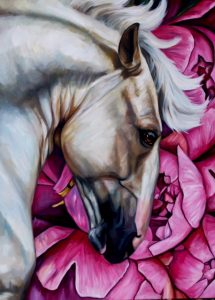 From the 10th September Buchlyvie will reopen with featured artist Sandra Moffat along with gallery favourites including Margaretann Bennett, Gordon Wilson, Susan Cook and Jane McCance.
We also have an abundance of 3D work with lots of new exciting artists to Greengallery……..