Browse Artists
Georgia Boyd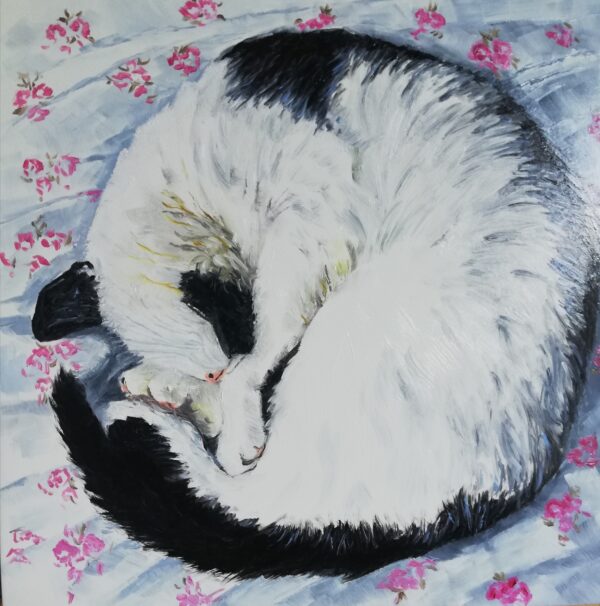 Georgia is an artist whose work combines portraiture, figurative, landscape and abstract. Having enjoyed a successful career as a professional viola player in Manchester and London, including travel to America, Asia and Europe, she settled in Scotland in 2001 and has continued to play professionally alongside being a practicing artist and Bowen therapist.
Georgia's first love is the human figure and she's studied privately over the years, attending life drawing and art classes in London and Glasgow. This grounding in drawing and visual analysis has been further enhanced by the study of anatomy as part of her training in physical therapy and these two areas reflect her fascination with the human form.
As a mother of two boys Georgia's always drawn them. Countless sketchbooks amount to a visual diary of their childhood years. Now as they get older her cats have become another focus as can be seen in her paintings.
Georgia's completed many portrait commissions, both of people and their pets, which can be found in homes across Britain.
Her inspiration is drawn from many sources, primarily nature and scenery, weather and light effects and the physical form, human and animal. Colour is a strong feature of Georgia's work and she's always chasing the sun and the beautiful effects created by different light and the changing of the seasons.
"I constantly feel as if I'm at the start of a journey and it excites me that there is still so much more to explore and discover within my art practice. I have more ideas than time, and the possibilities for making art are endless.
I strive to make every image into something that is beautiful and evocative. I want the viewer to feel the softness of a cat's fur, sense the fresh spring air, smell the bluebells in the woods or want to know what a person is thinking and who that person is. I hope to create images that bring out that special quality in the subject matter that moves people in some way."